New Forest Cycling
Cycling in the New Forest offers you the chance to soak up fresh air and completely immerse yourself in stunning scenery, whilst exploring the huge selection of beautiful woodlands, towns and coastlines found within the New Forest... all at your own pace!
With so many New Forest cycle routes to choose from, we have created this guide to direct you to some of the top rides to take, as well as links to New Forest cycle maps and New Forest cycle hire shops – helping you to plan your adventure and get you on yer bike!
New Forest cycling is one of the main attractions for visitors, due to the vast array of off-road, and road-based cycling paths on offer, with over 100+ miles of routes to explore within the New Forest area. To enjoy a safe ride, please download a New Forest cycle map below, and look for the wooden signposts to help you stay on track...
New Forest cycle routes for families
All ages and abilities can enjoy a cycle trail in the New Forest with many safe and gentle waymarked trails, and cycle paths through quiet country lanes, around the coastline & in accessible wooded areas. Have a look at some of the best family-friendly cycle routes in the New Forest and Hampshire areas here:
Off-road & road cycling routes in the New Forest
New forest cycle rides can be enjoyed both on, and off-road, depending on your personal preference. Granted National Park status, there is plenty of varied terrain, stunning landscapes and space to freely enjoy so, from 2 mile rides to 40 mile + excursions, look at a map of cycle paths in the New Forest with off-road, road-based or circular path options to suit:
Cycling in New Forest towns
If you want to enjoy scenery much as it was hundreds of years ago, the rich heritage and un-spoilt acres of the New Forest makes it the perfect playground for cyclists!
Brockenhurst is a very popular starting point, and central cycling destination, as its railway station welcomes visitors from London and beyond- connecting them with cycle tracks that network throughout the New Forest.
The market towns of Ringwood, Burley and Salisbury make for a very interesting visit with lots of historic landmarks and folklore to learn about; whilst a ride towards reward can be found in Lymington and Lyndhurst's High Streets- both offering the perfect post-cycle pit stop with their eclectic mixes of vibrant cafes and boutique shops.
The coastline of Lymington's Sea Wall and Milord on Sea are rich with wildlife, and can be biked as part of the Solent Way track (a 60-mile path leading from Emsworth Harbour through to Milford-On-Sea)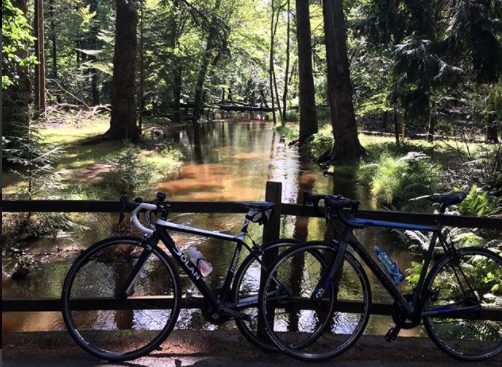 Forestry Commission Cycling Map
The Forestry Commission's New Forest Cycling Map covers 100+ miles of cycle tracks within the New Forest, connecting all of the towns. It also includes quiet unaudited cycle lanes, national cycle routes and approved off-road routes in the New Forest + the New Forest cycling code for safe riding:
Cycle hire in the New Forest
If you are looking to hire gear as part of your New Forest cycling holiday, the following links will take you to some of the local bike suppliers:
Cycle hire in Ringwood & Burley: Forest Leisure Cycling
Cycle hire in Brockenhurst: Cyclex
Cycle hire in Lyndhurst: The Woods Cyclery
Cycling Clubs & Events
For news on cycling events and cycling clubs in the New Forest, please visit: