New Forest Horse & Pony Riding
New Forest ponies can be seen ambling and grazing throughout villages here all-year-round (Brockenhurst, Beaulieu and Burley are particular horse hotspots), but for these wishing to explore the New Forest behind-the-scenes, an exhilarating horseback hack through the varied pastures here makes for an unforgettable adventure!
By choosing to enjoy a horse or pony ride during your stay in the New Forest, you will see the woodlands, moors and grasslands much as it would have been all of those years ago when the New Forest was the royal stomping ground of William the Conqueror!
Thanks to its un-spoilt scenery, and with over 140,000 acres of land to explore, horse riding is top of the to-do list for many visitors to the New Forest!
Whatever your horse riding experience, the following guide has also been created to help keep both you and the New Forest, safe.
New Forest Ponies
The indigenous New Forest pony breed has called these ancient woodlands home for centuries, with evidence of their residence first recorded in 1016. To this day the ponies remain a huge part of the New Forest's rich heritage and culture.
Originally used to help work the land, over 3,000 of these gentle residents, all owned by commoners, freely graze amongst the heathlands and pastures of the New Forest, helping to make it one of the most special and unique places in the UK.
For more information on the New Forest pony breed, Horse & Hound's article makes an interesting read.
Horse Holidays in the New Forest
Why not bring your horse on a special New Forest riding holiday, where you and your horse will be catered for, and you can discover some fabulous New Forest rides.
Our selection of horse friendly accommodation options each offer their own individual touches to make sure both you, and your horse, are as comfortable and happy as possible. Ample grazing, secure paddocks, access to the open forest and on-site livery are just a few of the features available and we are sure you will find your perfect equine escape here!
New Forest Horse & Rider Accommodation
Horse Riding Clubs & Events
For news on New Forest horse riding clubs and events, please visit: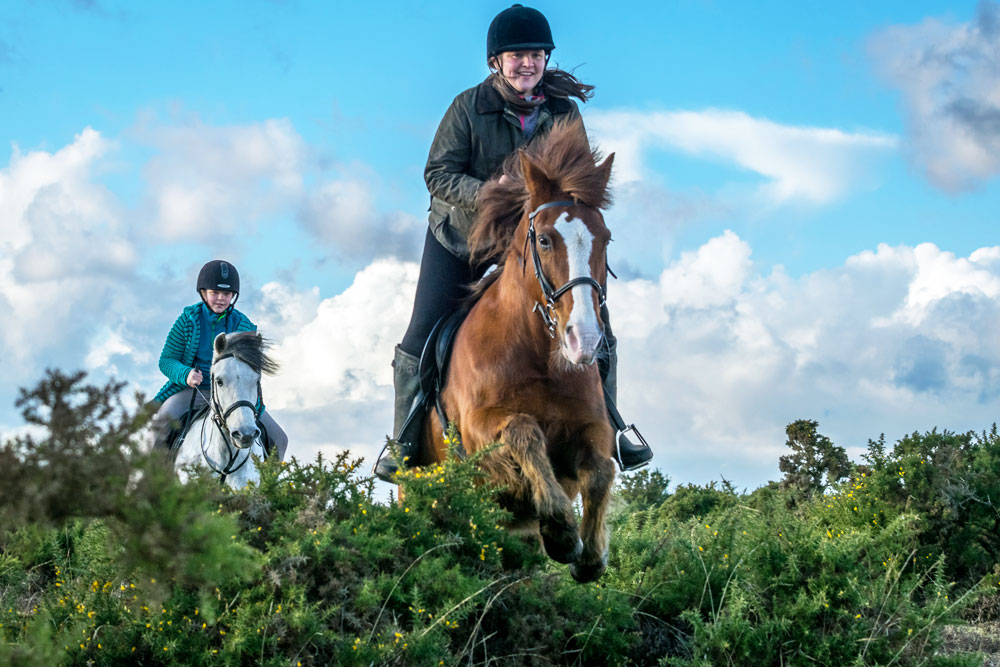 New Forest Riding Schools
Whether you are a beginner wanting an introductory lesson, require a refresher riding lesson, or are looking for a good hack across the forest, the guide below shows a selection of the many New Forest horse riding schools, stables and livery's that are available...
4 Seasons Forest Rides - Ringwood
Arniss Equestrian - Fordingbridge
Bagnum Riding Stables - Ringwood
Brockenhurst Riding Stables - Brockenhurst
Burley Villa School of Riding - New Milton
Eastmoors Riding School - St Leonards
Fir Tree Farm Equestrian Centre - Fordingbridge
Ride New Forest - Fawley
New Forest Horse & Wagon Rides
If you would prefer to explore the New Forest on the back of a horse and cart, please see below...
Burley Wagon Rides - Burley